Wood Preservative Coatings

Weather extremes are the enemy of wood. If you reside near the beautiful lakes of Chicago IL, without proper protective coatings your wooden deck, furniture and other wooden decorations may not last for the next generation. When wood gets wet, it starts to become vulnerable to fungi, molds, swelling and eventually wood pests.
It is a known fact that wood is an organic material. This is why it is also prone to wood pests such as termite, fungi and molds. In order to make wood lasts, you need to apply protective coatings on it. By applying a protective coating, you are increasing the durability of the wood by eliminating the possible elements that can harm it.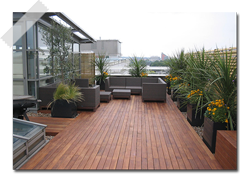 Application of protective coating for your wooden deck, furniture and decorations should not be done without prior training and knowledge. This is because most of the protective coatings used on wood are varied. Some may not harm you or your loved ones without you knowing it. In addition, only the skilled and experienced staff of HPD can determine which type of protective coating is applicable to your home. They will be assessing the type of wood and where it is placed in your home or business establishment.
It is also not advisable to rely on suggestions from wood protective coating stores. Take note that these people are trained to sell, not to use the products they are selling. Though they may have used it once or twice, it is always better to practice safety precautions.
The most common chemical used in coating wood to protect it is borates. This particular compound is safe for indoor wood furniture and decors as well as low toxicity. However, it is still not advisable for homeowners or inexperienced person to accomplish this task. Part of the knowledge and training of people who use this compound are safety precautions and related first aid.